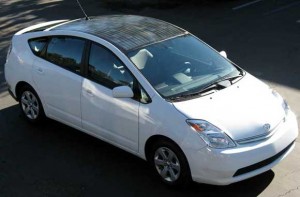 The Prius, Toyota's flagship hybrid vehicle, is set to get a solar system upgrade for its latest version (version 3) scheduled for release in 2010.
The Prius which is a hybrid vehicle which runs on Toyota's hybrid synergy drive, will come equipped with a roof covered entirely in solar panels.
Disappointingly the panels will only provide power for the cars air-conditioning unit, in order to reduce energy consumption and reduce the load on the motor vehicles electrical system.
Whilst this doesnt represent a huge step forward to the goal of running production vehicles on solar energy it is nevertheless a small step, one which we hope other motor vehicle production companies will follow suite
Check out the following link on how you can get involved in moving toward solar energy and creat your own solar panels Home Made Solar Power